Children today are bombarded with the occult through TV shows, cartoons, movies, and books targeted toward children. Today, it is more important than ever before to teach kids the Biblical view of the occult. If we shirk this duty, the secular world will teach them that the occult is harmless fun.
Unfortunately, many children's pastors and church leaders either participate in occult entertainment or would rather allow children to be involved so they won't scare them unduly. God hasn't given us a spirit of fear. We need to teach the whole truth of Scripture before Satan gains a stronghold with our children.
Here are 5 keys to teaching your students and children about the occult.
The Bible forbids it. There are many verses that directly forbid the occult. All verses are in New International Readers Version. These are just a few of the verses that forbid it.
Leviticus 19:31 Do not look for advice from people who get messages from those who have died. Do not go to people who talk to the spirits of the dead. If you do, they will make you "unclean." I am the Lord your God.
Revelation 21:8 But others will have their place in the lake of fire that burns with sulfur. Those who are afraid and those who do not believe will be there. Murderers and those who pollute themselves will join them. Those who commit sexual sins and those who practice witchcraft will go there. Those who worship statues of gods and all who tell lies will be there too. It is the second death.
Deuteronomy 18:10-11 Here are things you must not do. Don't sacrifice your children in the fire to other gods. Don't practice any kind of evil magic at all. Don't use magic to try to explain the meaning of warnings in the sky or of any other signs. Don't take part in worshiping evil powers. 11 Don't put a spell on anyone. Don't get messages from those who have died. Don't talk to the spirits of the dead. Don't get advice from the dead.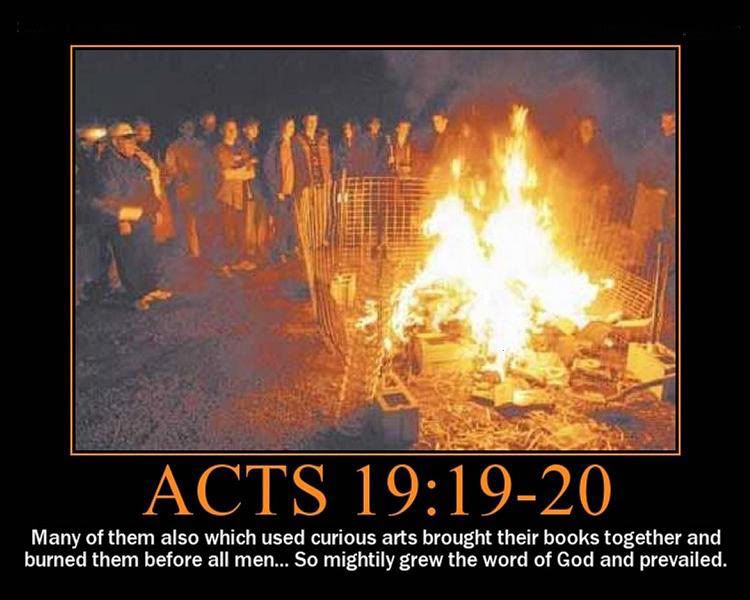 Renouncing the Occult was a sign of repentance in the Bible: There was a group of people who got saved while Paul was preaching. The first thing they did after getting saved was to burn all of their occult materials even though they cost a lot of money. We should also get rid of anything we have that is occult.
Acts 19:17-20 The Jews and Greeks living in Ephesus heard about this. They were all overcome with fear. They held the name of the Lord Jesus in high honor. Many who believed now came and openly admitted the evil they had done. A number of those who had practiced evil magic brought their scrolls together. They set them on fire out in the open. They added up the value of the scrolls. They found that it would take more than two lifetimes to earn what the scrolls were worth. The word of the Lord spread everywhere. It became more and more powerful.
Teach children what the occult is. Because the occult is so pervasive in our culture, many adults and children don't understand what the occult is and what things we should avoid. They need practical teaching and examples of occult practices they need to avoid. Here's a list of a few occult practices, although not exhaustive.
Witchcraft and sorcery
Séances and talking to the dead (ghosts)
Psychic powers
Telling fortunes (astrology, tarot cards, Ouija board, 8 ball)
Spirit or animal guides
Anything demonic
Give children an opportunity to repent of Occult practices. Children need to know that if they've been involved in the occult, all they need to do is ask God to forgive them and turn away from their sin. This would be a good time to encourage your students to bring any occult paraphernalia to the church. You can have a bonfire to get rid of it just like the Christians did in Acts 19.
Teach children to Fear Not. Children have nothing to fear from demons, the occult, or Satan because God is all powerful. Remind them often while you are teaching against the occult that God has overcome the world. You might also want to pray with your students and ask God to take away their fears and nightmares.
2 Timothy 1:7 God didn't give us a spirit that makes us weak and fearful. He gave us a spirit that gives us power and love. It helps us control ourselves.
Psalm 27:1 (NIV) The Lord is my light and my salvation, whom shall I fear?
The Lord is the stronghold of my life, of whom shall I be afraid.
James 2:19 You believe there is one God. Good! Even the demons believe that. And they tremble!