This Thursday and Friday is the time that the Jewish people celebrate the Feast of Purim. They honor Esther and remember how she saved the Jewish people. I can think of no better time to teach about Esther during mid-week classes or children's church.
The story of Esther is found in the Book of Esther in the Old Testament. The main theme and verse from the Book of Esther is found here:
Esther 4:14 (NIV)  For if you remain silent at this time, relief and deliverance for the Jews will arise from another place, but you and your father's family will perish. And who knows but that you have come to your royal position for such a time as this?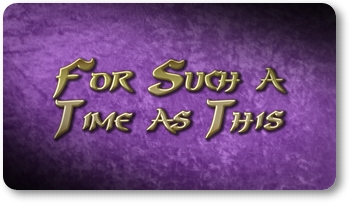 What a powerful statement for our time. Children need to learn that they were created by God in this time and in the family they were born for an important purpose. Some day, they may need to make a stand as Esther did and risk something to obey God.
One fun thing you can do is have a Purim carnival where everyone dresses up as kings and queens and parades through the church or neighborhood. The children could make banners that say "For Such a Time as This", and they could carry streamers and noisemakers.
Here are a few online lessons for teaching about Esther:
Esther Bible Lesson for Preschoolers
Esther the Queen Bible Activities
Church House Collection: Queen Esther
If you would like to do a series on Esther, here are a couple of online teachings:
Bible Study Planet:
Esther Bible Lessons For Children: